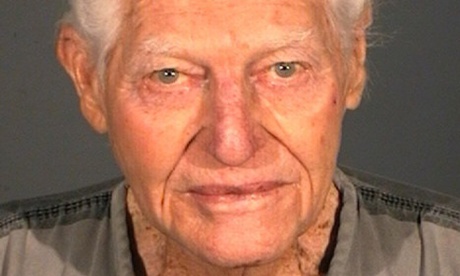 Jailers are keeping an 88-year-old man on a suicide watch after he was arrested on Sunday for allegedly opening fire at a Carson City hospital and critically wounding his wife, authorities said.
William Dresser was detained after firing one shot with small-caliber semi-automatic handgun, striking his wife in the chest, at Carson Tahoe Regional Medical Center, the Carson City sheriff, Ken Furlong, said. No other injuries were reported. The woman was a patient in a third-floor room when she was shot around 11.30am.
The woman, whose injuries are considered life-threatening, was transferred to Renown Regional Medical Center in Reno, Furlong said. Her name and age were not immediately released.
Dresser was booked into the Carson City jail on suspicion of attempted murder and was on suicide watch, the sheriff said. His bail was set at $225,000.
Dresser, who recently bought the gun, came to his wife's room in the rehabilitation ward, where she was alone, and shot her in the chest, Furlong claimed. No details of why she was admitted to the hospital were released, but officials do not suspect foul play as a reason for her admission.
Hospital security personnel and state department of corrections officials at the scene detained the man until sheriff's deputies arrived. The Carson City hospital issued a statement saying the shooting was "a targeted situation" that prompted a two-hour lockdown of the facility.
A woman who answered a phone call at a listing for a William Dresser in nearby Minden said she was too busy to talk Sunday afternoon. Dresser has no known prior criminal history in the Carson City area, Furlong said.
The shooting came a month after a gunman walked into a medical facility next to the Reno hospital and killed one doctor and shot another before committing suicide.
Alan Oliver Frazier, 51, said in a suicide note that he was targeting physicians at Urology Nevada in the 17 December attack. Frazier complained of pain and fatigue for years in an internet chatroom and to neighbors – symptoms he blamed on a botched vasectomy that the center disputes.
Source:
The Guardian